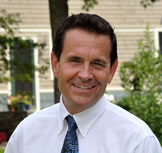 DR DENNIS BARLEY
Dr Dennis Barley 
has been practicing family chiropractic and sports rehabilitation for over 25 years in East Fairhaven. His life mission has always been to help others. Dr Barley received his Bachelors degree in Biology from Susquehanna University in Selinsgrove, Pennsylvania and received his doctorate from Life University in Marietta, Georgia where he graduated cum laude with a Doctor of Chiropractic degree. He received a specialized degree in sports medicine from the American Chiropractic Board of Sports Physicians and is designated as a Certified Chiropractic Sports Physician.
Besides holding multiple certificates in Nutrition. He is currently studying for his Nutrition degree from North Western Health Science University. He is a member of the International Chiropractic Association, the American Board of Chiropractic Sports Physicians, the Massachusetts's Chiropractic Society, the ICA's Council on Pediatrics and the Doctor's Speakers Bureau, a non-profit international organization of doctors that speak for free on health and wellness.
Tammy
Ideal Protein Coach
Tammy is an Ideal Protein coach and leader at Barley Wellness whose focus is to teach our clients how to achieve amazing transformations and manage healthy lifestyle changes. Tammy's expertise and compassion helps our clients achieve their wellness goals in a healthy and fun environment where results are reasonable and reachable through her support and understanding.
Our medically developed weight loss protocol and smarter lifestyle choices education offers dieters what they really want…a structured program that can put an end to constant dieting.
Business Hours
Fairhaven Hours
Monday: 8 am - 6 pm
Tuesday: 8 am -6 pm
Wednesday: 8 am - 6 pm
Thursday: 8 am - 12 pm
Friday: 8 am - Noon
Saturday: 8 am - Noon
By appointment only
Barley Family Healthcare is Authorized to Use the Ideal Protein Weight Loss Protocol and Products. The testimonials on this website are those of the individual that is identified, you should not necessarily expect to receive these results. Typical results vary from person to person and individual to individual when the Ideal Protein Weight Loss Protocol is followed properly. You should consult your physician or other health care professional before starting this or any other diet program to determine if it is right for your needs.
270 Huttleston Ave Fairhaven MA 02719 – Phone: 508-997-9100
Copyright © 2023  Ideal Protein All rights reserved.